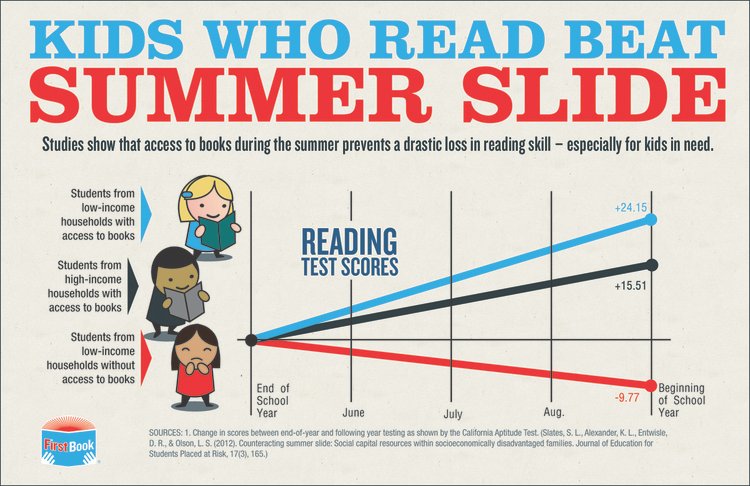 Make sure kids have something to read during the summer — put books into children's hands. Register with First Book and gain access to award-winning new books for free and to deeply discounted new books and educational materials or find other national and local programs and organizations that can help.
Get your local public library to sign kids up for summer reading before school is out.Invite or ask your school librarian to coordinate a visit from the children's librarian at the public library near the end of the school year. Ask them to talk about summer activities, educational videos, and audio books at the library and to distribute summer reading program materials.
Get to know your community public library better. Find out if your public library is part of the Collaborative Summer Library Program, a grassroots effort to provide high-quality summer reading programs for kids. The theme for 2015 is Every Hero Has a Story. Colorín Colorado has tips for parents in English and in Spanish about visiting the local library. Or check out our top 9 reasons to rediscover your public library.
Let parents and kids know about the free summer reading incentive programs. Pizza Hut's BOOK IT! program has a Wimpy Kid summer reading challenge that kicks off on June 22nd. Jet Blue and Magic Tree House launch Soar with Reading on June 23. The Scholastic Summer Reading Challenge encourages kids to log the minutes they spend reading and map their accomplishments. Kids can participate in weekly challenges, earn digital rewards, and enter to win prizes. With the Barnes & Noble Imagination's Destination challenge, your child can earn a free book after reading eight books (and parents receive a summer reading kit full of activities). With the TD Bank Summer Reading Program, kids read and keep track of 10 books and can get $10 added to their Young Saver account.
Help kids build math and science skills over the summer. Share our Literacy in the Sciences series with families. Each one-page tip sheet (in English and Spanish) suggests easy hands-on activities as well as fiction and nonfiction books to extend the learning. In this section you'll also find links to great science websites for kids, blogs about children's science books, and links to PBS KIDS science programs and activities.
Encourage parents to start a neighborhood book club with other families this summer. It's a great way to keep the summer learning social and low-key. Warmer weather can inspire some not-so-run-of-the-mill meeting places, too: a tent or picnic blanket in the backyard. If the book club catches on, it's something to continue throughout the school year. PBS Parents has a wonderful collection of tips on how to start a club and encourage great discussions. Our special education blogger, June Behrmann, shares ideas (and title selections) for starting your own mother-daughter "accessible " book club using print alternatives.
Suggest to parents that they set up a summer listening program which encourages their children to listen to written language. Research shows that some children with learning disabilities profit from reading the text and listening to it at the same time.
You can also find great activities at Reading Works.
Offer recommendations for active learning experiences. Check with your local department of parks and recreation about camps and other activities. Find out what exhibits, events, or concerts are happening in your town over the summer. Create a directory or calendar of local summer learning fun to share with your students and their families. (Be sure to note any costs involved.)
Let's get our children reading and learning.